21st April 1969
SOMEWHERE IN A CROWD
by Michael J. Bird.
Directed by Alan Gibson.



Cast: David Hedison (William Searle), Ann Bell (Ruth Searle), Jeremy Longhurst (Max Newby), Jane Asher (Marielle), Ewen Solon (Douglas Bishop), Tenniel Evans (Hugh Baillie); George McGrath, Frank Cousins, Kaplan Kaye, Ann King, Elizabeth Robillard (The Watchers).

At a shipyard, TV commentator William Searle is disturbed when he sees five strangely familiar faces in the crowd of a launching which goes disastrously wrong. Other tragedies happen to him, always with the strangers present, and soon he discovers that the five were killed in a train crash two years earlier which he survived.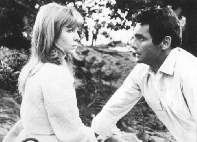 Of the role David Hedison said, "I had just finished Voyage to the Bottom of the Sea. I had just gotten married in London. I was just falling in love with England. We had just gotten back to LA. Journey to the Unknown was shooting the segment titled 'Somewhere in a Crowd.' Originally Lloyd Bridges was supposed to do the part, and he, for some reason had to get out of it. He had another commitment. They called me in quickly, and I said absolutely, so they flew me to London to do it."

See also the