Broadcast 2nd July 1976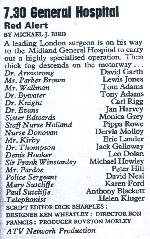 Click for larger image
POINT OF INTEREST
Bird wrote only the one episode, "Red Alert". He hated anything medical, believing that most doctors were charlatans, and hospitals filled him with dread. He didn't want to do it.
His wife recalls he felt he was pushed into it. "In revenge he wrote an incredible story about the hospital being inundated with victims of a motorway pile up, one of whom was woman about to give birth who had two broken legs, a surgeon held up getting to the hospital etc. etc. He thought it was so over the top the company would reject it. However they loved it!"
Bird's episode was given pride of place in the schedule. They even named the show's new theme "Red Alert".