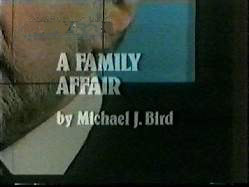 22nd October 1976

A FAMILY AFFAIR

Writer: Michael J.Bird.
Director: Peter Graham Scott

Guest Cast:
George Ballantine (Beachcomber), Elizabeth Spriggs (Mrs Kyneston), Edmund Pegge (Police Inspector), Richard Bartlett (Cashier), Jeremy Clyde (Martin Jessell), Terence Longdon (Patrick Hawkes), Ray Marioni (Croupier), Virginia Stride (Susan Bartlett), Marc Zuber (Mark Bowden), Philip Madoc (Det. Chief Insp. Lewis), Murray Hayne (Gerald Kyneston)



An elaborate plan goes wrong because of a woman's intuition.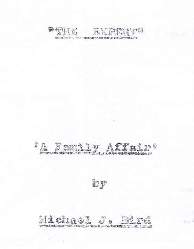 READ THE SCRIPT

It seems unlikely we will get the chance to see The Expert again on our screens but thanks to Olive Bird I have been able to copy Michael's script for "A Family Affair" (complete with many of his manuscript alterations) and it can be viewed here as a PDF* file.

*Most computers will open PDF documents automatically, but you may need to download Adobe Acrobat Reader.
Acrobat Reader is free software that lets you view and print Adobe PDF files.



Download Acrobat Reader?