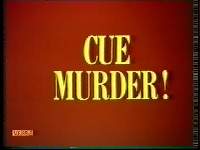 With a series as long running as Paul Temple it seemed odd that Bird should have written only one episode. It came as no surprise, therefore, when I discovered that he scripted at least one other: a story he called "Cue Credits, Cue Grams, Cue Murder".
My good friend Werner Schmitz from MEDIA Gems excellent Paul Temple Website has made a detailed comparison of Bird's script and the filmed story: "Cue Murder!"
Bird's script is 87 pages long (including intro pages). Although it would have worked well as it stands it was subject to extensive rewrites by producer Derrick Sherwin and script editor Martin Hall (writing pseudonymously as David Simon), which led to Bird removing his name completely.
The majority of Bird's characters and their idiosyncrasies, the basic setting, structure and plot elements and even considerable portions of his dialogue remain in the filmed version. However, the producer/script editor team deleted Temple's police companion DI Alan Neville and one of the panelists, Prof. Leonard Mulvaney. Male "Guilty Party" producer Grahame Alton was changed into female (and slightly androgynous) producer Genine Dalton (played by Madge Ryan). The fictional director's name was shortened from "Robin Grenville-Tullough" to "Robin Tullough" (he is introduced much later and with less care in the episode), his PA becomes "Jenny" instead of "Jane" Bevin.
Jozef Walczak was originally a non-speaking part. In the revised episode he cuts in very dramatically when Paul explains the meaning of the word "glina" and assumes control of the fictional TV show from Humphrey Dean for a couple of minutes, delivering a long dramatic monologue (Dean compensates with a monologue of his own, which is not in the original draft and in which he introduces a Mr. Alton (!) in the Temple role for the following week).
The female victim's name was changed to Lucia/Lucy, the sister is now called Galina Wyzanski (not Novak). The geographical details for Beech cottage are changed, and Agnes' digestion problems and its implications (providing drama/humour in the original script) were deleted. In the TV version it is Paul, not an interviewer, who speaks to Galina, and not least due to a bad satellite line she comes along as a comic relief. The interview as such is different.
The exposition is tightened considerably. The lengthy climactic chase through the BBC studios, including a standoff in an executive producer's office and another during a song and dance rehearsal, is left out completely. The "action" is reduced to Margolis being pushed through a studio backcloth by Walczak, after the killer tries to justify himself.
Many of Steve's scenes are deleted, most notably one in which Bird had her warning Paul, along with scenes which revealed that Walczak was carrying a gun.
The dramatic pace is different in the episode, with the details revealed about the night of the murder following much later (after the live interview) and those about the van robbery inserted earlier. The sequence of events is also changed so the interview follows Agnes' revelation about her clock (the interview is inserted much earlier in the original draft).
Drusilla annoys the producer with sociological analysis, resulting in a strong rivalry between her and Genine. In similar vein, in the revised draft more time is given to long heated exchanges between Paul and Margolis, and Tullough clashes with the (female and dominating) producer in a more punctuated fashion.
A new suspect was invented for the filmed version, Bernard Donnelly, whose mother is present in the studio. This subplot consumes a great deal of running time. Now crucial (and added) to the plot is Paul's explanation of the Polish, L'.
Maurice as played by Michael Lees has a homosexual air about him, a detail which is hinted at in the Bird script (and which keeps cropping up in his early work). Instead of a wrap up with Neville there's a final confrontation with the producer: Paul says that according to the small print in his contract he is entitled to vetting of the final version (so there IS a producer bit with implied/more direct media criticism of sensationalist approaches at the end). Finally ... in the TV version everybody smokes on stage like junkies!
All in all the episode as completed is minus two (conventional) melodramatic deaths and minus a (conventional) police/detective/villain chase. The changes succeed in making the episode quite different from other melodrama episodes like A Greek Tragedy (in which melodrama seems more organic).
Of course the changes also helped to reduce costs and time spent for production - there was eventually NO location filming at all, and the studio scenes could be done all on one set instead of several. Criticism levelled at Bird's draft could have been along the lines of "too slow, too conventional/similar to other scripts, with a solution coming too much out of the blue". We would hope though that the man received a full payment.