READ THE SCRIPT
Bird scripted at least one other story, entitled "One of the Family", in which he killed off semi-regular character Det Sergeant Maguire (Paul Antrim) but the story was not produced. It would have made a great final episode.
We will never get the chance to see it on our screens but thanks to Olive Bird I have been able to copy Michael's script for "One of the Family" and it can be downloaded here as a PDF file.
Download a copy of the script for the unproduced episode
"One of the Family"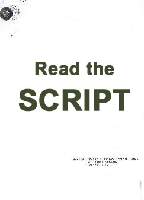 POINTS OF INTEREST
On 1st August 1973 Bird received a letter from Special Branch producer Ted Childs which said:
"Lloyd Shirley, George Taylor and I viewed the final cut of 'Double Exposure' today. They were very impressed, as I was, by the quality of the end product. The general conscensus is that it is one of the best films so far made under the Euston Films baner."
* * *
The part of Don Tierney in The Dark Side of the Sun was written specifically for Patrick Mower. Here was Bird writing for Mower nearly ten years before.