REGULAR CAST
Raoul Lavalliere
(Peter Egan)

In Bird's script we are told:
"He is a good looking man who is probably in his late forties or early fifties. He could be older, he could be younger. There is a timeless quality to him. Tall, well built and, as always, immaculately groomed and fastidiously dressed. He has a genuinely, and unashamedly arrogant, aristocratic air about him. He gives the impression of being someone who is used to giving orders and to having them obeyed without question."
Peter Egan describes Lavalliere as "the very devil himself" and his portrayal of the charismatic aristocrat clearly owes a debt to Christopher Lee's Prince of Darkness. Lavalliere's "death" scene could have been lifted from any of the Hammer Dracula films.
Egan had worked previously with both director David Askey and producer Vere Lorrimer and was much in demand. He is best remembered as smug, suave smoothy Paul Ryman - next door neighbour to Richard Briers neurotic Martin Bryce in the sitcom Ever Decreasing Circles , which aired the following year.
A fan of Egan's kindly scanned some of her collection of cuttings for me. They are not directly related to The Dark Side of the Sun but fans of the series may be interested in reading more about the actor so I found them a home in a corner of the site.
And Peter Egan has an excellent website of his own that is well worth a visit. He speaks very fondly of The Dark Side of the Sun.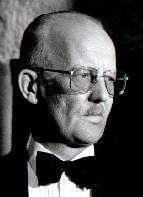 Colonel von Reitz
(Michael Sheard)

Michael Sheard had played truculent printer Reuben Flaxman in The Outsider, and he met Bird for the first time when the writer arrived on the set. They hit it off immediately. Sheard recalls "Michael came up to Yorkshire shortly before the end of shooting and saw the 'rushes'. He invited me for a wee dram in the bar. 'Michael', he said, 'I'm writing a piece for the BBC and there's a part in it, in which you would be excellent. He's the right hand man to the boss: Colonel Von Reitz."
"Dietrich Von Reitz is a squarely and solid built man in his early forties with restless, searching eyes and brisk positive movements. Despite the immaculate suit he is wearing Von Reitz has an unmistakeably military air about him."
Superficially Sheard's character is a stereotypical Nazi flunky, fawning and simpering after Lavalliere - the "Maitre". His persistent urging of caution irritates the younger man, who treats his aide with appalling disdain.
Bird gives the 'wisdom of age reigning in impetuous youth' an ironic twist when the "younger" man turns out to be considerably older than his looks. We also discover hidden depths to Von Reitz when, in the closing minutes of the story, he delivers a stirring speech to the brotherhood and assumes command. It is a defining moment for the character yet Sheard says Bird wrote the scene only after finding that the script was running short. Its absence from Hugh Miller's novelisation, which would have been written from the original script, supports Sheard's claim that it was written for him on the spur of the moment. Necessity was truly the mother of invention.
Sadly Sheard died in August 2005, aged 65. In his autobiography "Yes, Mr Bronson", published in 1997 Sheard recollected his time working with Bird on both The Outsider and The Dark Side of the Sun.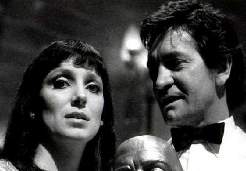 Don and Anne Tierney
(Patrick Mower and Emily Richard)

Bird wrote the part of Don Tierney with Patrick Mower in mind:
"Tierney is thirty-four. He is well built, sinewy and athletic looking. His face is interesting rather than handsome and there is a determined, slightly belligerent set to his jaw but he has alert, good-humoured eyes and he smiles easily.
Although he has travelled widely and moved a long way from his origins in thirty-four years Tierney, born within a quarter of a mile of Clapham Junction and a product of local schools, still has traces of a South London accent and, proud of the fact, makes no attempt whatever to cloak it."
Bird had written for Mower's series of Special Branch and knew the actor's work. The infamous "Mower smile" is much in evidence and serves his dual role quite well, alternately conveying affection and menace.
Tierney's wife, Anne, is played by Emily Richard:
"Anne Tierney wasn't born anywhere near Clapham Junction. Her father was a career diplomat and mother the youngest daughter of a minor, hereditary peer and Anne, their only child, was delivered by the resident obstetrician of the British hospital in Delhi in 1952. Eleven years later both her parents were killed in an air crash.
At thirty-one Anne is a very attractive woman. Far more attractive than she promised to be when, three months short of her twelfth birthday, she was placed in the loving if somewhat eccentric care of her Aunt Jessie, her father's elder sister.
Although warm and friendly, she has a slightly withdrawn air about her which, if challenged she would almost certainly deny but it's a fact and, like any other highly sensitive and finely tuned human being, it is her first line of defence against a mostly sceptical, materialistic and largely insensitive world.
The Tierney's have been married for four years and Anne adores her husband even more than he adores her. They have no children and Anne has been told that she can never have any. Don Tierney long ago accepted this as a simple fact and it's never really bothered him.
It bothers Anne however. Initially it bothered her a great deal but now, secure in her marriage, she has almost come to terms with her deep disappointment."
Anne Tierney drifts through most of the series as though in a trance. It is hardly surprising since the character spends most of the time grieving for her dead husband, suffers one, possibly two, nervous breakdowns, and is alternately haunted by a ghost or courted by a man who plays tricks with her mind.
Carol Royle, who had played Fiona Lytton-Neave in Bird's YTV series The Outsider earlier that year, says that Bird originally wanted her for the role of Ann. She did read for the part but the Director opted instead for Emily Richard. (Bird didn't always get his own way!)
Richard still remembers "the entire production team and a cast of actors with whom I would willingly work again" and the laughter they shared. She also recalls walking with Olive Bird in the small streets of Rhodes and telling her how she and husband Edward Petherbridge longed to have a baby, and then discovering a few weeks after filming had started that she was pregnant. It was a longed for child - since Richard had suffered a still-birth whilst with the RSC in Nicholas Nickleby.



Harry Brennan
(Godfrey James)

Returning for his third and final stint with the "Michael J Bird repertory company", Godfrey James played the amiable Harry Brennan, employer and close friend of Don and Anne Tierney.
"Harry Brennan is a thickset man of about fifty-five.
Once a press photographer himself, he now runs the business side of a very successful photographic agency which lists not only Don Tierney but many other leading British photographers and photo-journalists among its shareholding clients.
Like Tierney, Brennan was also born and bred in London, just off the Mile End Road."
James and Bird were old friends, and for a time had lived in the same Cambridge street. Olive Bird told me that in his younger days James had been a professional singer ("a very good one"). This was born out when I spotted some sheet music from 1960 for sale on E-Bay! It features a very young (but still recognisable) Godfrey James on the cover.
Other "returnees" included leading Greek actress Betty Arvaniti, who had starred in Who Pays The Ferryman?, playing Lavalliere's nemesis, psychiatrist Ismini Christoyannis.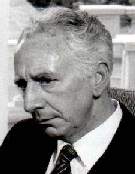 Dr Phillimore
(Trevor Baxter)

Trevor Baxter was cast as Dr Phillimore by Director David Askey. He had worked with Askey in BBC's Spy Trap and in an episode of Rough Justice. For Dark Side of the Sun Baxter received two contracts, the first to film from 10th - 16th April, and the second for 23rd May. Bird had commented on his performance after the second episode. "I remember him saying he particularly enjoyed the way I greeted a patient I passed - a casual 'good morning' I think - on my way to the house, walking through the garden in a very long take."
Although Baxter cannot be certain, the issue of a second contract suggests his reappearance in episode six may have been the result of Bird extending the part. "I had joked with him at the first reading how envious I was of the other actors, off to a hot location and said all he needed to do was to add to the scene description 'Dr. Phillimore's clinic,' the words ' in the South of France.'" Bird didn't take him up on it, but two years later he wrote Maelstrom's Dr. Albrigsten for Baxter and the actor got to film in Norway.
Baxter recalls an amusing postscript to his work on Dark Side of the Sun, which further illustrates the hectic way in which the series was pulled together. Producer Vere Lorrimer rang in early August, during post production editing, and asked Baxter if he would do a voice over on the final scene, which he was not in, to improve clarity. Baxter obliged.
"Thinking the script was repetitious I suggested one or two cuts (actors are prone to do this) to which Vere agreed. Needless to say, Michael was not there. I recorded and went home. I'd not been in ten minutes when Vere was on the phone, panic stricken, saying that between us we had cut the plot! So I had to go back and do it again - cuts restored. To Vere's chagrin too much time had elapsed between the first and second recording for it to be considered one studio session so I had to be paid two recording fees!"



David Bascombe
(Christopher Scoular)

Christopher Scoular played the slightly wet, but engaging, David Bascombe.

"Bascombe is a year or so younger than Tierney but they are alike in both height and build.
But any resemblance ends there, for Bascombe has fairer hair, his face is thinner, his features more delicate, more finely chiselled and there is a lazy, easy going air about him."

Like Trevor Baxter, Scoular would return in Bird's next series -
Maelstrom