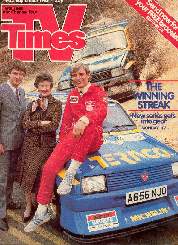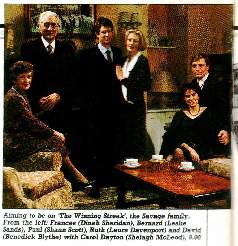 Devised by - Michael J. Bird
Producer - Michael Russell
Executive Producer - Michael Glynn

YTV
6 (52 minute) episodes
16 September 1985 - 21 October 1985
The introductory feature in TV Times set the scene ...
"The backbone of the family is Bernard Savage (played by Leslie Sands), who started Savage Motors in the Forties and built it into a thriving family business. His wife Frances (Dinah Sheridan) has been a tower of strength and is destined to play a vital role in the firm's future.
Their two sons are ambitious and dedicated, but very different from each other. Paul (Shaun Scott) the eldest is, like his father, a tough and determined businessman, eager to take over the running Savage Motors. His much-neglected wife, Ruth (Laura Davenport), is becoming increasingly bored. What lies in store for them?
The younger brother, David (Benedict Blythe), is obsessed with becoming a champion rally driver and is inclined to put his sporting activities before the demands of his job. His girlfriend, Carol Dayton (Shelagh Mcleod), a disc jockey with a local radio station, supports him personally and professionally on the air. Ronnie Coates (William MacBain) is David's long suffering co-driver.
David's arch rival is Frank McShane (Michael Cashman), who is as ruthlessly determined to hang on to his rallying crown as he is to keep the love of his sometimes fickle-hearted lady, Barbara Brookes (Jane Morant). This calculating lady has no scruples about using people to gain success."