THE WINNING STREAK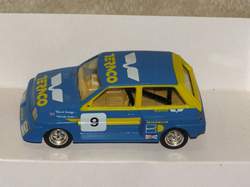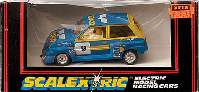 Scalextric produced a model of the MG Metro 6R4 rally car featured in the show, painted in the fictitious "Ternco Oils" livery. Apparently only 400 were produced so the model has become something of a collector's item.

In September 2012 a dealer was offering one on e-Bay boxed and in mint condition (right) for a hundred and thirty pounds. (The 'Beatties' model shop price sticker on the box read twelve pound forty-five pence!)

The listing read:
This ex shop stock example is one of a limited run of just 400 that were made I understand in conjunction with a TV programme. The programme was cancelled and the cars were withdrawn from sale...very few are known to have survived and certainly not in the condition. This car has not even been removed from its display card. The original waterslide decal sheet is in the back of the box.

In 2014 the one on the left was listed on e-Bay for a hundred and seventy five pounds! At those prices I guess I will never have one!
---
Michael J Bird Tribute Website

This page was last modified: