In the Summer of 1988 Dennis and Fiona Watt purchased a cheap holiday return ticket to Crete. On arrival they tore up the return section and headed for Aghios Nikolaos, where they became Lotus Eaters.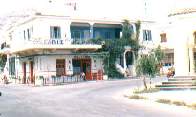 Interestingly the Watts' inspiration was not Michael Bird's writing - even more remarkable when you consider they later moved to Elounda to run a bar that featured in Who Pays The Ferryman? (Right)
It started with a simple holiday on Crete. While they were there Dennis and Fiona read a book "The Winds of Crete" by David MacNeil Doren and his wife Inga. The book told of the couple's experience living the simple life on the beautiful (but then still isolated) island of Crete in the years before tourism took hold.
The seed was sown, and so twelve months later the last of the children had left home, the house was sold, and the Watts spent the next three years reliving the book. Michael Bird would have approved.
Dennis told me, "Our bar was opposite the church and could be seen in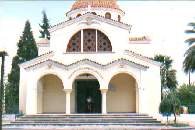 Who Pays The Ferryman? in the episode when the old guy came down from the mountains on his donkey and there was a confrontation outside the church.(Left)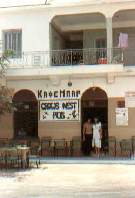 At the time of the series of course it was not a 'bar' but a kafenion. Riding on the publicity from the series the kafenion was turned into a tourist 'English Pub' by a chap called Chris Cheliotis from Elounda who had been at sea and married an English girl, sadly Chris died in 1990.
The bar was sold to a Paris based Greek actor who turned it into a French Cafe Bar and we retained the identity. Now it has been changed to a souvenir shop by the owner of the building (the ex harbour master from Heraklion) for his daughter Katrina."
"The only memory I have relating to the series," said Dennis, "apart from being on a caique rounding Spinalonga (albeit with a diesel engine), was a very large 'local' who maintained that as a young boy was in it."