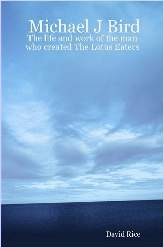 Michael J. Bird
The life and work of the man who created The Lotus Eaters
by David Rice



£

8.99
(plus postage and packing)



For nearly three decades Michael J Bird was a major creative force in British television - the man behind The Lotus Eaters, Who Pays the Ferryman?, The Aphrodite Inheritance, Maelstrom and The Dark Side of the Sun. More than just a television writer, Bird pioneered international co-productions and is credited by many with creating the Greek island tourist industry. Bird's series were extremely popular - not just in Britain but all over the world. They were screened in over thirty countries. At the height of his career Bird's influence was enormous. In the autumn of 1983 he had major drama series running in primetime slots on rival television channels.

Bird's life was as interesting as the stories he wrote. In his teens he was excommunicated from the Catholic Church for joining the Communist Party. As a young man he clocked up 19 jobs in seven years including driving a hearse, caring for lab rats, working as a cinema projectionist and a stint as doorman at a Texas whorehouse. He did not break into scriptwriting until he was nearly 40 and created his best work in his late forties and early fifties. He died in 2001, age 73.

Much more than a conventional biography, the book tells the full story behind each of Bird's remarkable drama series and through them the story of Michael Bird, for the two are inextricably linked. It is sufficiently detailed to satisfy the many fans of Bird's work while still retaining a broad appeal for readers interested in British television drama in general.

The book includes contributions from dozens of TV professionals including actors Wanda Ventham, Emily Richard, Stefan Gryff, Trevor Baxter, Joanna Dunham, Elizabeth Bennett, Betty Arvaniti, Michael Sheard and Anthony Stamboulieh; director's Viktors Ritelis and Andrew Morgan; producers David Cunliffe and Michael Glynn; Alex Gourlay, designer for The Dark Side of the Sun; Bente Saxon, Norwegian liaison on the series Maelstrom; Jim McTaggart, technical adviser on The Outsider; Richard Wakeley, Bird's literary agent, and Petros Raptis of the Greek Film Centre.

It was written with the full co-operation of Michael Bird's widow, Olive, and his family who gave me access to the writer's files and dozens of original photographs to illustrate the book.

Bird created seven major television series. The book takes the reader behind the scenes of each from inception to final screening with contributions by figures from in front of and behind the cameras. In addition to his own creations, Bird was a contributor to dozens of popular drama series during the 60s 70s and 80s and the book also gives an insight into many of them.

Printed: 254 pages, 6.14" x 9.21", perfect binding.
Over 80 illustrations black and white interior, full-color exterior.
Includes an appreciation of Michael J. Bird by Director Viktors Ritelis.
"Very classy and highly professional in all respects ... a most excellent record of a curious and irritating and talented and grumpy and charming man!"

David Cunliffe
TV Director and former Head of Series Drama at Yorkshire Television
"You certainly captured the man I knew and give full justice to his talent. I found the Maelstrom passages particularly interesting ... but the detail of all his other projects fascinated me. What an extraordinary talent. And what an unfathomable temperament! Your description of his final days is very moving. Many congratulations! "

Trevor Baxter
Actor. ('Dr Phillimore' in The Dark Side of the Sun and 'Dr Albrigsten' in Maelstrom)
---
---


READER REVIEWS

You can check out reader reviews on the lulu website using the button below.