From these Screen Caps of the fictitious "Micklethorpe" website visitor Martin Underwood successfully identified the location as the market town of Knaresborough, about 14 miles west of York.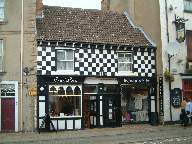 From a subsequent visit I can report that the cute little chequerboard shop (left), then at least, housed a wool shop and a candle shop (and the pub next door did a very reasonable lunch!). Strictly speaking the Micklethorpe Messenger was the left-hand (candle) shop.
Martin has also rather ingeniously located the Messenger building on Google street view from which it appears that, by June 2012, it housed a Health Food store.
Using all his research Martin put together a webpage "The Outsider - then and now" , which also features a street plan of the town and contemporary shots alongside his Screen Caps.
Martin has since tracked down a number of other locations.
Ep 1: A Death in the Family
Fiona and Lord Wrathdale are seen together by Frank at Fewston Reservoir, Fewston, North Yorkshire
Ep 2: The Legacy
Sylvia takes Donald to the airport Leeds/Bradford Airport.
Ep 3: A Question of Judgement
The art exhibition was flmed at Manor House, Castle Hill, Ilkley,
Various episodes: "Wrathdale Hall" was Rudding Park Estate, Follifoot also located here using Google street view.