The BBC finally gave in to the constant stream of demands (many of them from visitors to this site) to release The Lotus Eaters on DVD and in the UK it was released in October, 2006.
I was delighted when my files turned out to be more comprehensive than those at the BBC, and I was commissioned by Flashpoint Media, the firm producing the package, to write the sleeve notes and accompanying 16 page booklets.
You may recognise the wording in this advertising blurb ...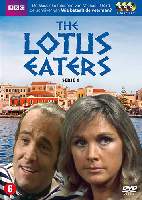 In August 2011 came the news, from website visitor Arjen van der Lit, that The Lotus Eaters (series one at least) was to be released on DVD by Memphis Belle in Belgium and Holland on 15th September 2011, available from bol.com and Mediamarkt.
(I am not sure why they made Ian Hendry look such a simpleton on the cover.)


And in 2013 the series surfaced "down under", once again with fresh covers, but with stills from the same handful of pix (that stern face on Wanda Ventham looks so unlike I remembered her!)
If you have any trouble tracking it down,
e-mail me for further details.