The Lotus Eaters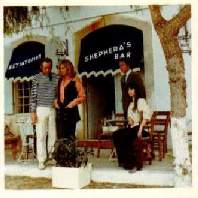 "To eat the fruit of the lotus is to lose the desire to return home. But everyone who does has a reason." So Radio Times introduced viewers, in 1972, to one of BBC television's most unusual drama series. The Lotus Eaters debuted on BBC2 on Sunday 23 April, the first of a series of escapist dramas from, then, little known writer Michael J Bird. It centred on a taverna, "Shepherd's Bar" in a small town on Crete, telling the stories of each member of the little community who frequented it.
Bird had conceived the idea for a story about a group of ex-pats twenty years earlier while he was on Ibiza, and Ibiza was the first choice of location. But filming for the series was due to start in November 1971 and the weather on Ibiza was not good. Seeking another location Bird visited Crete. Later he told Radio Times that he had taken a taxi along the coast and "as we turned the corner round a narrow headland, my heart lurched. In front of me was a town which exactly matched, in every detail, the town I had described in my script."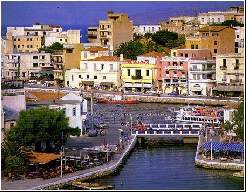 Bird asked the taxi driver to stop, and he got out. "There was a shot in the script of a high-level view of the town - it was as if I had written it from where I was standing. When we went down into the town, it was almost no surprise to discover there was a bar with a pepper tree outside, exactly like Shepherd's Bar in my script. There was even a lake just where I had put one in my imaginary town. Although I didn't really believe in that kind of rubbish very much, it was hard to escape from the feeling that I must have been there before, perhaps in another life." Whether that was the case or not, the little town of Aghios Nikolaos would never be the same again.
The show ran for two series. The first was a collection of nine self-contained plays, each telling the story of a different member of the cast. Most characters appeared in more than one episode, and the story of principal characters Erik and Ann Shepherd ran throughout.
It would have been unusual back then for a single writer to script an entire series and several writers were engaged. Bird told them the overall concept and they contributed story lines. Bird wrote five of the nine scripts and acted as story consultant, making sure the whole thing hung together, which it did beautifully. In what was to become a Michael Bird trademark, the writer made an appearance himself in episode 6 in a scene with Maurice Denham.
The series had a definite end, so when it proved successful Bird was faced with a problem. How could he resurrect it for a second run? After a twelve month gap The Lotus Eaters returned, this time as a six-part serial building on the Shepherds' espionage story line. Bird contrived to pack in plot twists at every point, keeping the viewers constantly on their toes. He even threw in a Dali-esque dream sequence, reminiscent of Hitchcock's Spellbound. The ending, which echoes the ending of the movie Casablanca, was charged with emotion, as police chief Michael Krasakis dutifully escorts his friends to the airport, and the final few minutes were tremendous.
Thinking for a moment about the Casablanca analogy. Interestingly, when Olive Bird leant me her husband's off-air recording of the first episode of The Aphrodite Inheritance I found it shared a video tape with Casablanca. The film was clearly a favourite in the Bird household.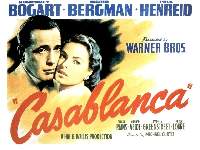 Website visitor Chris Williams observes that with a little reworking the story would have fitted in perfectly as a Lotus Eaters episode. Rick's Café Américain would be Shepherd's bar and Erik would be the bar owner who is asked for help by an old girlfriend fleeing to Libya with her political husband and relying on their old romance/relationship to get him to take them there in his boat, much to Ann's disapproval. Ann's role as a sleeper agent could have been worked in as well and maybe her loyalty could have been tested when MI6 contact her and she is order to prevent the escape and carry out an assassination.
As Chris points out, the unusual spelling of the name of Ian Hendry's character (Erik instead of the more conventional Eric) makes "Shepherd's Bar" Rik's Bar. Could Bird have been having one of his little jokes?