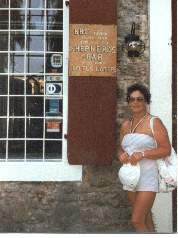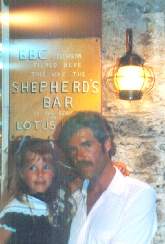 "Shepherd's Bar"
Michael Glynn (producer) says:
"The exterior of the quayside bar at which many of the The Lotus Eaters scenes were played was, before our designer repainted and dressed it, a desolate, dirty boarded-up uninhabited building staining Aghios Nikolaos's quayside. Some of the building's interior was used as the unit's property store.
It was amazing to find in the cellar, attractive drawings on the walls, still in reasonably good condition. The locals told us that during World War Two the cellar had been used by Italian soldiers and their artistic ability had been preserved for all to admire."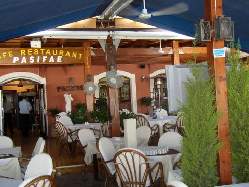 As the picture on the left - courtesy of website visitor (and Aghios resident) John Harraway - showed, in 2006 it was a restaurant.
Or was it?
In Off the Beaten Track a short feature article published in the KO-GO Khronicles (the bilingual Newspaper of the Gouves Township - Crete) in September, 2007, writer Tom Feise stated that the bar "is a jewellery shop these days". John Harraway assured me that although the building had been a number of things in its time the latest incarnation was the restaurant.
Jumping ahead to 2012, website visitor Kevin Marshall just back from Agios Nikolaos, e-mailed to report that "Shepherd's Bar is now an up-market restaurant called 'The Blue Lagoon'".
In 2015 Anna Pereboom, on her annual pilgrimage to Crete, checked it out and reports: "As there seems to be some controversy about the exact location ... Shepherd's Bar is called the "Blue Lagoon" these days and is situated on the lake (and not somewhere along the harbour as someone suggested). I was quite surprised to see the sign as it is the first time it has been up since we first started coming to Crete. Shows it still lives on.
The waiter asked if I had seen the Lotus Eaters and I said we had watched it again prior to coming to Crete and I mentioned the MJB website and suggested he take a look. He said he didn't have time, much too busy with all the tourists etc."