Unusually for a writer at the time Michael Bird was involved in all aspects of production and filming. He had written The Lotus Eaters with Ian Hendry in mind. Bird had written for Hendry's series The Informer and had secured the actor's interest in the project at that time.
When Hendry was offered the part he suggested his wife, Janet Munro, to play "Ann". The producer felt this may not be a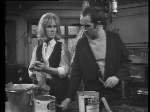 good idea since the Hendry's were going through a divorce! Andrew Osborn, Head of Drama at the BBC, met with the series' three directors and agreed that he should approach Wanda Ventham. Ventham had played opposite Hendry (right) in the television serial The Gold Robbers a few months earlier and they all agreed the chemistry was good between the two actors. (Interestingly the episode had been scripted by David Weir, who was the only writer besides Bird to write for both series of The Lotus Eaters.)

Ventham had also worked with all three directors before so, as she says:

In Hendry's memoirs, serialised in a Sunday paper in 1980, he said that the series reflected his own bar and boat lifestyle, because he lived for most of the time on an island in the River Thames at Shepperton and used a boat to get to the mainland. He made a point of praising Michael Bird and said "the whole team was a such a happy bunch of ex-pats." Bird had a habit of blending reality with his inventions and there was great irony in Hendry playing a man whose life was damaged by alcoholism since his own drink problems were no secret.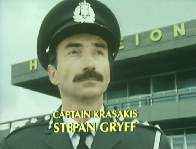 Michael (Captain) Krasakis
(Stefan Gryff)
Stefan Gryff was born in Warsaw in 1939. He studied law at the University of Sydney, Australia, and practised criminal law for a time before coming to London to join Brian Rix's Whitehall Theatre Company. Gryff appeared on BBC television in the late 60's in a number of the Whitehall farces.
When he auditioned for The Lotus Eaters he said it was for 'a small part as a policeman' - a minor character. He recalled arriving on location and feeling apprehensive at working alongside established performers like Ian Hendry and Maurice Denham. On the first night they all went to bed leaving Gryff chatting to (as he thought) one of the crew. The two men talked for hours and by the end of the night had become friends. Only then did Gryff ask the man what he did, thinking he was probably an electrician, and was surprised to get the reply "I wrote the bloody thing."
Bird set to work developing the part. Gryff admitted that he liked "to philosophise" and Bird drew on elements of Gryff's personality to create one of the most enduring characters of the series. By the end of the second series the character had become so well defined, and so popular with the viewers, that Bird's next project was to be "Krasakis" - a series based around the Greek policeman.
Unfortunately the BBC's Alistair Milne killed the idea, saying that it would be too expensive and in any case the BBC "had enough cop shows". In retaliation Bird wrote the character into Who Pays The Ferryman? On screen he is referred to only as "The Major" - and he no longer sports his trademark moustache and sunglasses - but the viewers all knew who he was. When Bird came to write the novelisation of Who Pays the Ferryman? he even reverted to the name Krasakis.
Sadly Stefan Gryff died on 3rd June 2017. Following his death Neil Hendry asked website visitor Chris Williams to write an obituary for the Ian Hendry website. Chris says he did a lot of research but found very little information. Later, he decided to dig a little deeper. You can download a PDF of Chris's chilling account.

(Most computers will open PDF documents automatically, but you may need to download Adobe® Acrobat® Reader™. Acrobat® Reader™ is free software that lets you view and print Adobe PDF files.) Download Acrobat® Reader™?
Nestor Turton
(Maurice Denham)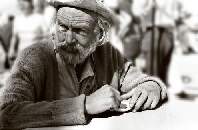 The incorrigible reprobate Nestor Turton was played by veteran British actor Maurice Denham. During the filming on Crete Denham was still grieving over the death of his wife, and Olive Bird says the actor spent a lot of time talking with her husband about his loss.
Nestor Turton was one of the few characters to appear in both series of The Lotus Eaters. When they were planning the second series Michael Bird wrote "Nestor Turton can either be written out altogether or, if Maurice Denham were agreeable, remain as a running character with a small but important part in just about every one of the new stories. This would be good for maintaining continuity and he is such good value anyway."
Maurice Denham's career spanned six decades during which he was rarely out of work. He made more than 100 television and film appearances. Roles included celebrated movies Day of the Jackal - with Edward Fox - and 84 Charing Cross Road. He also starred in two of the most popular radio shows of the 1940s: Much-Binding-in-the-Marsh, a comedy set in a ramshackle RAF station and the legendary It's That Man Again, known affectionately as ITMA.
Denham died on 24 July, 2002 at the age of 92. You can read a resume of his career, with the report of his death, on the BBC Website .
Major Woolley
(Thorley Walters)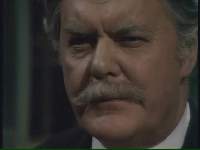 Thorley Walters was an English character actor, probably best remembered for his comedy film roles such as in Two-Way Stretch and Carlton-Browne of the FO. He featured in three of the St Trinian's films and in the 1960s he also appeared in several Hammer horror films, including Dracula, Prince of Darkness (1966), Frankenstein Created Woman (1967) and Frankenstein Must Be Destroyed (1969).
When Walters died in 1991 his Godson, Richard Hope-Hawkins, inherited the actor's film, TV and theatre archive, which included a number of photos from the filming of The Lotus Eaters. Richard has kindly offered to scan them in order to share them with the rest of us.
Pip and Leigh Mervish
(Karl Held and Carol Cleveland)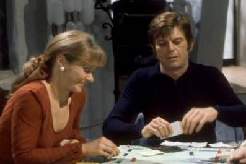 In the original script the Mervishes were said to be cousins. At some point along the way this was changed to brother and sister. Bird described them as: " ... two cobras, the world reflected in their polaroids, sunning themselves, looking around for amusement, for victims; too languid to make a move immediately but ready to strike when the mood takes them."

A very strange couple, with a possible whiff of incest about their relationship, the Mervishes' story was one of the darker tales in the series.
Karl Held was a relatively well known face at the time, appearing in shows on both sides of the Atlantic. He returned in Michael Bird's The Aphrodite Inheritance in 1979 playing "heavy" Travis. Carol Cleveland is perhaps best remembered as the female member of the Monty Python team.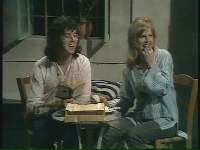 Kirsten McLuhan and Mark Potter
(Julia Goodman and Martin Howells)
Julia Goodman is perhaps best remembered for her role as Barbara Trent in the long running BBC drama series "The Brothers". Ms Goodman is no longer acting and these days runs the PR company Personal Presentation.
Commenting recently on Gabriel Hershman's biography of Ian Hendry she recalled Hendry "... wrote me a beautiful poem when we were on The Lotus Eaters and his ability to 'bullseye the truth' in every line was something that I as an actress always aspired to ... not always successfully, but Ian influenced me greatly ... I so remember him doing a back flip in the hotel reception in Greece on Lotus Eaters!!!."
Martin Howells continues to act. Website visitor Chris Williams tracked him down at the New Zealand actors' agency Springsouth.