Who Pays the Ferryman?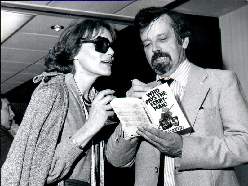 The popularity of The Lotus Eaters confirmed Michael J Bird as a leading television writer. With Erik and Ann Shepherd banished from Crete their story could go no further so for his next creation Bird sought a new subject that would hold the same appeal for his audience. It was on a return visit to Aghios Nikolaos that one virtually dropped into his lap. He told Radio Times that he had been talking to tourists who were there because of The Lotus Eaters , and one man told him it was the first time he had been back to Crete since the war, when he fought with the Resistance on the island. From that chance conversation came the idea for Bird's best-remembered, and most commercially successful, creation - Who Pays The Ferryman? - in which Alan Haldane's return to Crete after 30 years is the catalyst for a frightening chain of events.
Ferryman was a powerful drama rooted in the tensions between old Cretan values and modern Greece. Its theme of undisclosed parentage was one to which Bird would return more than once in future writings and the central story of the old-woman's "vendetta" was in every sense a Greek tragedy. In the style of The Lotus Eaters Bird offered diversions in the form of the odd unconnected story along the way.
Many people assume from the depth of his knowledge about Greece, and in particular wartime Crete and the Andartes, that Bird had some sort of history with the place. In fact there was nothing obvious in his past connecting him there, although he quickly developed an affinity for the country and its people, which explains why he kept returning. He and his wife did share an interest in Mythology, but first and foremost he was an historian and he had an extensive library, most of which was history. He always immersed himself in a location and befriended as many of the locals he could. He also had a passion for research. Some years before he had written The Secret Battalion, a factual book about the French resistance, and undoubtedly his research stood him in good stead when he came to write Who Pays The Ferryman? The description of wartime events in episode two, for example, is very reminiscent of the beginning of Secret Battalion.
William Slater was contracted to direct the series as well as produce it. However the shoot was fraught with problems and the joint role became too much for Slater, especially when during the location work he put his back out and suffered a lot of pain. Production Assistant Andrew Morgan handled a lot of the location shooting. Morgan says "it was a tremendous experience and helped set me off as a freelance director." Ironically Slater's back injury occurred lifting Morgan's ten year old son, who was on holiday on Crete with the rest of his family. Olive Bird recalls her husband saying that during the studio work technicians and actors often came to him for direction. At the wrap party Bird, who had been under a lot of pressure, lost his temper and destroyed part of the set.
None of this was apparent in the final production, which proved even more popular than The Lotus Eaters, and spawned book, record and video spin offs. The theme even made the UK charts. The novelisation is still in print, published by the Greek Efstathiadis Group, and the soundtrack album was re-released on CD by EMI Greece in 2000. Clearly the show is still fondly remembered by British tourists. And in 2006 a version of the series with Dutch subtitles was released on DVD in Holland and Belgium.
ODD NOTE DEPARTMENT

In March 2011 website visitor Paul Gardner sent me a screenshot from a holiday video filmed a couple of years earlier on Spinalonga - the former leper colony off the coast of Crete, which featured in two of Michael Bird's creations: Who Pays the Ferryman? and The Lotus Eaters. It showed a photograph on the wall of a small museum inside one of the leper houses on the island and Paul said it showed actor Jack Hedley pictured with "women workers from the Spinalonga leper colony".

The picture was indistinct.

I sent a copy to Anna Pereboom, a frequent visitor to Elounda, who thought it seemed odd, since "Spinalonga stopped being a leper colony in the 1950s. So if it is Jack Hedley what on earth was he doing there at that time?" Anna has just returned from her latest holiday and she visited Spinalonga to track the picture down and took a couple of photographs of it for us.

Disappointingly it turned out not to be Hedley - but it does remind me of another British actor, I can't recall the name of, from the 50s and 60s. So a mystery solved creates another...!
---
Michael J Bird Tribute Website

This page was last modified: