Lavalliere's Kastello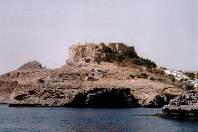 The establishing shot of the Kastello Aghios Theodoros features the crusader fortress at Lindos.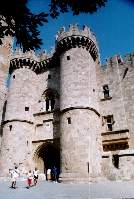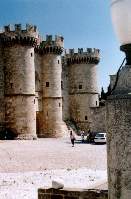 But as we close in, by the magic of television (every bit as powerful as that of the demonic Lavalliere) we are transported 25 miles across the island to the imposing entrance of Anaktoro ton Arkhonton - the Palace of the Grand Master in Rhodes old town. When the unfortunate thief falls to his death, in the opening sequence to episode one, he falls from the cliff top at Lindos - watched by Lavaliere from the battlements of the palace in Rhodes - that man had incredible eyesight!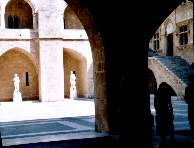 The Palace of the Grand Master is also the location of the Kastello courtyard and adjacent stairway seen in virtually every episode.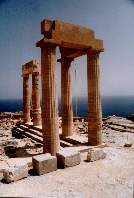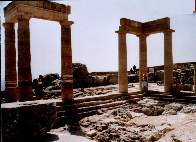 In episode three Anne Tierney and David Bascombe leave Anne's house in Rhodes old town for a stroll - as described in the book, around the walls of the old town. They actually stroll around the Acropolis at Lindos - 25 miles away.
The Radio Times feature accompanying the series was illustrated by a picture of a wistful Anne Tierney (Emily Richard) sitting by the stone columns of the Acropolis.
And finally, the Scottish manor house featured in the last episodes as Lavalliere's prospective new home ...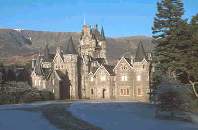 ... is Ardverikie House, which will be familiar to many as "Glenbogle" from the BBC's Monarch of the Glen series.

It was also used in the film Mrs Brown, but designer Alex Gourlay is proud to say that he was the first to use it. It was then an empty hunting lodge.